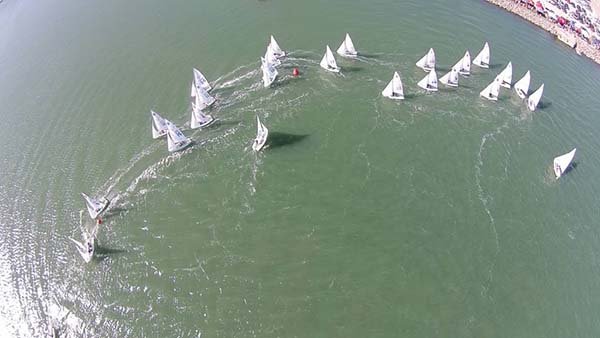 What is the best tactic when rounding the topmark?
As soon as the fleet approaches the top mark it will bring a lot of boats together. It looks like a very chaotic situation. Boats are going left, right and next to each other. And besides that you are also facing boats on opposite direction still approaching the top mark. How can you deal with this situation? What possibilities do you have?

Before we answer these questions there are a few things to consider. This will influence the decision. We will talk in more detail about this in a later blog. There are differences in down wind course for different boats. We have 1-person dinghies like optimist and laser that can sail by the leech. Also we have relatively slow boats with a spinnaker sailing a small angle downwind and boats with a higher down wind speed making bigger angles. The boat that you are sailing influences the decision at the top mark.

There are 4 mayor aspects to consider before making a decision about your top mark rounding. In later blogs we will discuss these in detail. The 4 aspects are:

1. Wind speed. More wind on 1 side of the course can be an important reason for choosing a particular route.
2. Wind direction. The bigger the angels you have to sail downwind the more important this factor will be.
3. Current. The impact of current can be substantial. This could very easily be the decider at your topmark rounding.
4. Competitors. Despite the fact that you rather don't make decisions based on other boats you have to deal with them. We prefer a clear lane for water and wind. To achieve this you sometimes will have to make a choice based on the boats around you.
Options to round the top mark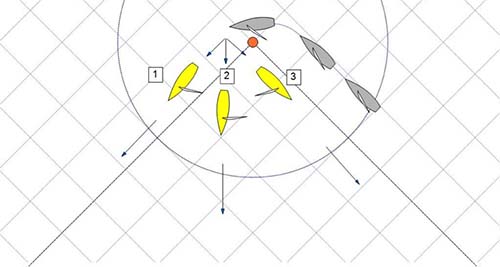 Option 1
During the mark rounding you keep reaching. This will bring you to the left side of the course. Normally this is relatively ease to execute and will give you clear wind. It is important to maximise this advantage in extra boat speed. You will make extra meters and need to compensate with extra boat speed.
You will find an extensive video explanation in our video database. It is completely free to enter our library!
Option 2
This option requires additional explanation. Many boats don't have the option to sail "dead downwind". If you are sailing a boat with a gennaker this option is not applicable. For almost all other boats it is important to make a slight angle with the wind. This means you want to sail slightly higher than dead downwind or slightly lower. This brings us to the disadvantage of option 2: You will be slightly slower than the boats choosing option 1 or 3. Most important advantage for option 2 is the shortest route you are sailing. If you think the shorter distance is more important than the higher boat speed, option 2 is definitely a possibility. Also after a short period of time boats will spread around the racecourse and gaps will open up.
Option 3
There are plenty of possible reasons why option 3 could be the favourite option. Current, wind direction and wind speed can be good reasons for option 3. Be aware of the fact that the beginning of option 3 is usually very hard. You are sailing directly in opposite direction of all boats approaching the top mark. This will give a lot of dirty air and waves in the beginning. But this will only be for a short period of time.
Summary
Think about the possible reasons to choose for the different options. Start practising when extra boat speed wins over shorter distance and visa versa. With practise you will get better and get a higher percentage of correct decision at your top mark rounding. All expert agree: The decision where to go to needs to be made before(!) the top mark. Your decision influences your technical mark rounding. Therefor you need to make your decision early and prepare for the rounding.
To learn more about the mark rounding check out the complete instruction video at the SportVid library. (free of charge)
Liked this article? Tell your friends and share this info on Facebook!
Want to learn more?
Sailing upwind technique
Also check out thefull Laser trimguide (with MKII upgrade!)