What line to use for the traveller?
There are many different lines that can be used for the traveller. If you bought your laser with trim lines at a laser dealer you very likely will have a nice traveller line. If not, no problem at all. As we want to pull the traveller line as tight as possible it is important to use a trim line with no stretch. Besides the line itself you don't want to have the line slipping through the deck cleat. We suggest that you use a 4mm or 5mm line for your laser traveller. Any line with these characteristics can be used.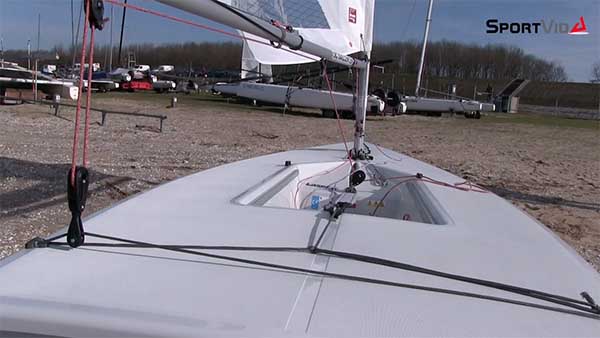 My rudder hits the traveller line
Unfortunately are the rules for the laser dinghy very frustrating. The tiller needs to be a straight line. To sail the boat nicely with a proper sail setup you need the traveller to be as close to the deck as possible. The lower the tiller the easier it is to steer the boat. However this increases the risk of hitting (the knot) the traveller line with your tiller. This is probably one of the most frustrating feelings a laser sailor can experience. To decrease the risk we suggest you make the loop in the traveller as big as possible to move the not as far as possible to the side (photo)
Liked this article? Tell your friends and share this info on Facebook!
Want to learn more?
Sailing upwind technique
Also check out thefull Laser trimguide (with MKII upgrade!)